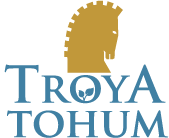 TROYA SEEDS, a member of ANDIFLI YATIRIM GROUP in the seed sector, was established in 2013 on 69 decares of farm in Kurşunlu, Aksu, Antalya with 40 years of experience and knowledge in Turkish Seed Industry with a wide network of national and international relations, a young and dynamic technical team and a new approach, TROYA SEEDS is engaged in hybrid vegetable seed breeding and production with its modern greenhouses, humidity and temperature controlled warehouses, laboratories equipped with the latest technology, biological testing units, seed production units, software for evaluating data during breeding stages and many other research and development equipment. 
TROYA SEEDS has prioritised tomato, pepper, eggplant, melon and watermelon species and sub-species in its breeding programmes.
TROYA SEEDS, with its highly specialised and experienced research and development staff, already released a considerable number of vegetable varieties, which it continues to develop in its own facilities, to the stage of registering and marketing both in our country and in other countries.
TROYA SEEDS is also the business partner of some international seed companies in our country. TROYA SEEDS carefully screens varieties that are suitable for the geography and climate of our country, imports them after testing them in experimental greenhouses for a sufficient period of time, demonstrates them offers to the the farmers.
TROYA SEEDS also contributes to the economy of our home country by developing locally bred hybrid varieties to substitutde the imported ones